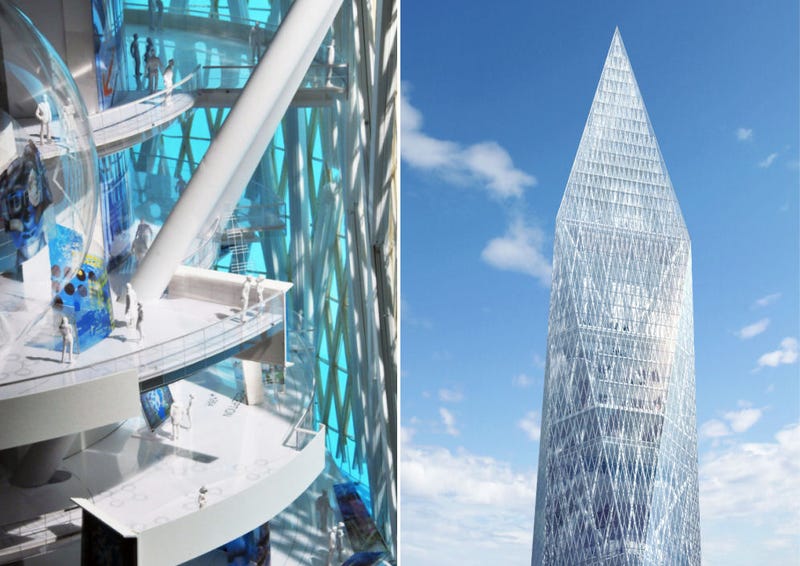 Having spent an exorbitant amount of energy bemoaning the rise of vanity projects and novelty skyscrapers in recent weeks, a new tower set to rise on the outskirts of Seoul brings with it the tantalizing possibility of critical respite.
GDS Architects has proclaimed its Tower Infinity an "Anti-Landmark." At first glance, however, this glacial spire appears to bear the same obnoxious, formalistic hallmarks of conceited icons elsewhere—I'm looking at you, Citylife Milano.
But all is not what it seems. With the aid of a cunning web of cameras and projections, this skyscraper can, at the flick of a switch, disappear into the night sky! A magical piece of technological ingenuity, or a cynical new branch of architectural exhibitionism? Only one thing is certain: this Houdini act sends a mixed message about the true motives of its developers…
The unique selling point of the glittering proposal, which ultimately led it to win an international design competition back in 2008, revolves around the use of a cutting-edge LED façade system that allows visual information behind the skyscraper to be captured and simultaneously projected from the tower's surface. This allows the building to blend into the background like an enormous, crystalline chameleon.
GDS Architects argues that this feature sets it apart from its super-tall, attention-grabbing counterparts: "Instead of symbolizing prominence as another of the world's tallest and best towers, our solution aims to provide the World's first invisible tower, showcasing innovative Korean technology while encouraging a more Global narrative in the process."
Now that the 450 meter-tall building has finally been granted a construction permit, the world's largest invisibility cloak will soon be put to the test. Looking beyond the epic vanishing act though, this skyscraper has some other, intriguingly unconventional features. Continue reading on Architizer!