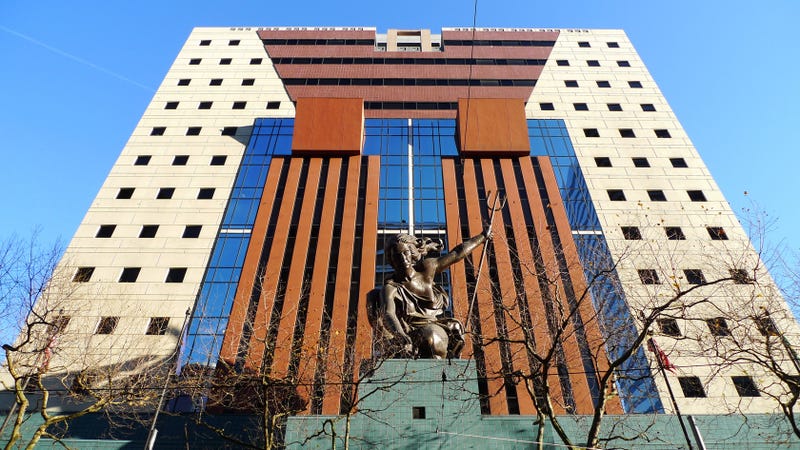 Postmodernism launched an aesthetic revolt against the over-sanitized, hyper-rational, and stark lines and volumes of modernism, opening up architecture to any reference, whether historical or out of pop culture.
The intentions of postmodernism were pure: to emancipate design from the rigid hierarchies of stylistic dogma. But with unlimited freedom comes a tendency toward excess. Every corner of the world, every hometown, has a few of these buildings draped in brass, pastels, and fake classical columns. We've all seen the overabundance of allusions, culminating in kitsch, that this architectural revolution has brought about. We've compiled a list of the Seven Deadly Sins of Postmodernism, to highlight (and maybe even celebrate) where architects sprinted across the line dividing good taste from the bombastically tacky.
1. Kitsch (Lust)
Austrian State Travel Agency, Hans Hollein.
2. Too Many References (Gluttony)
Shengyang Fengyuan, Shanghai Bank.
3. Gold (Greed)
Trump Tower Las Vegas, Bergman Walls & Associates.
4. Pastels (Sloth)
Swan Hotel, Michael Graves.
5. Ruins (Wrath)
BEST Store, SITE.
6. Copying Others (Envy)
FAT's Museum of Copying copies Palladio's Villa Rotunda.
7. Obsession With Architect's Image (Pride)
Charles Moore's face in the Piazza D'Italia.