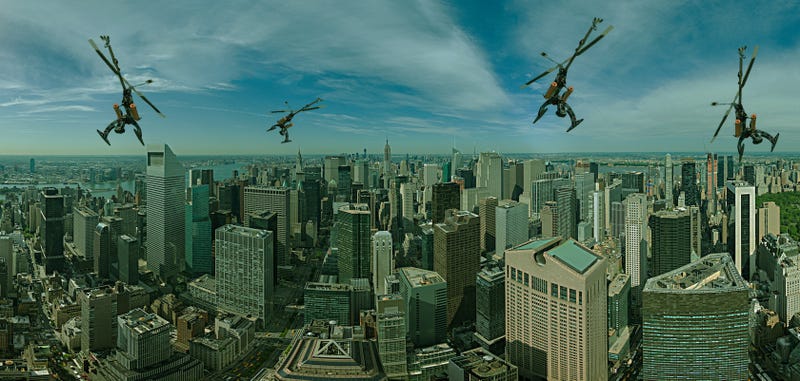 This may be the summer of surveillance sagas, but for architects and urban dwellers, drone technology is proving a boon. Before high-profile high-rises top out, developers and architects enlist SkyPan, an aerial photography company, to send camera-clad unmanned aircraft to capture the sweeping views that future residents and office workers will enjoy. As cities rise higher and higher, this drone technology allows you to realize your vista fantasy before the elevator shaft is inset.
SkyPan's miniature helicopters have captured views from such highly publicized in-development projects as Jean Nouvel's MoMA tower, Herzog & de Meuron's 56 Leonard skyscraper, and Rafael Viñoly's 432 Park Avenue.
Interested buyers no longer have to rely on speculative renderings or inaccurate images captured by wobbly tethered blimps. Visitors to the 432 Park Avenue website even get a 350 degree glimpse of what it will be like to stand at four different heights. Check out the Central Park perk:
Want a view far above midtown's spires to the southern tip of Manhattan? Swivel to the photograph taken from 1271 feet. Drop down to 667 feet to get more on the level of mid-century icons like the Seagram and MetLife (née Pan Am) buildings, and strategize tossing a stone into the Chippendale open pediment of Philip Johnson's AT&T Building (now known as the Sony Tower).
The impetus to develop such precise imaging has litigious roots, in which a prominent Chicago developer was sued by a buyer arguing that his new unit's view was inaccurately portrayed prior to construction. Cities don't allow aircraft as large as traditional helicopters to descend low enough to capture most views, particularly in the post-9/11 era. To solve this dilemma, SkyPan founder Mark Segal expanded his aerial photography practice with an arsenal of remote-control robot hovercrafts, allowing the firm to produce pristine, 360-degree panoramas from towers before they got off the blueprint. Continue reading on Architizer!
A Skypan view from the Metropolitan Miami tower prior to construction