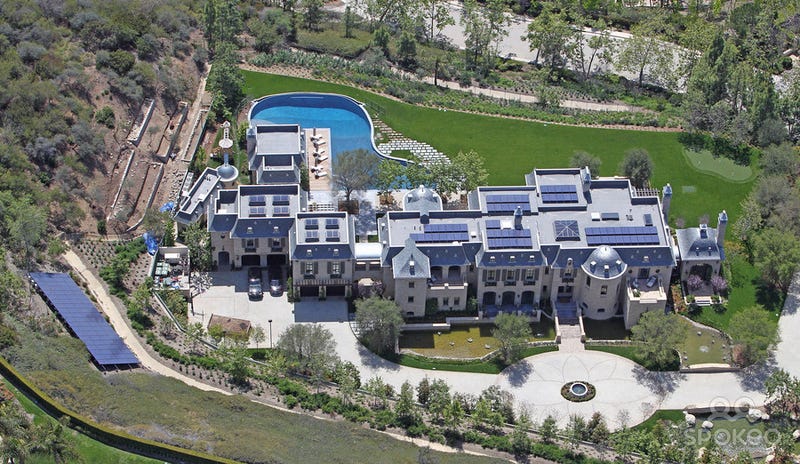 Between October 2008 through August 2009, a group of mostly bored, spoiled Southern California teenagers obsessed with fame, fashion, and fortune burglarized the mansions of Hollywood's often tabloid-fodder celebrities, including Paris Hilton, Megan Fox, and Lindsay Lohan. Using Google Earth, and by simply entering through unlocked doors, the teens made off with nearly $3 million in cash and belongings, before eventually being arrested for residential burglary, and sentenced to 2 to 6 years in prison.
Above: Tom Brady and Gisele Bündchen, Brentwood [images via]
And now they have a movie made about them! The Bling Ring, Sofia Coppola's latest, comes out today in New York City. So to celebrate the opening, we've gathered some of the most over-the-top Hollywood pads that (hypothetically) would yield some outrageous loot.
Above: Katy Perry, Hollywood Hills (up for sale) [images via]
Prepare to cover your eyes, because you're about to witness some of the most deliciously tacky, shamelessly decadent, and ostentatiously expensive palatial estates in all of LA-LA-Land (save for ScarJo's attractive mid-century modern delight).
Above: Will Smith (and family), Los Angeles [image via]
However, despite all the garish ornamentation (is that a statue of a baby cradling the globe Brit Brit?), we could not stop asking one question: Why the heck does any one person need so much space? Click through to see them all!