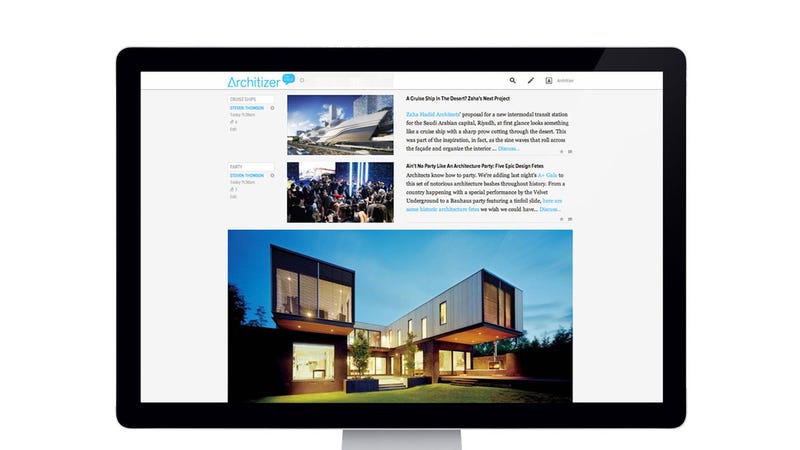 A note from Marc Kushner, CoFounder of Architizer
Hot off our A+ Awards Gala last night in NYC, I am proud to announce a new partnership with Kinja, the Gawker Media platform that is revolutionizing commenting and interaction online:Architizer on Kinja.
Maybe you have noticed the banners at the top of the page on Architizer. We are relaunching Architizer this summer. You can expect bigger pictures, better search, and more integrated product and firm information. It is a brand new platform, built from the ground up to be the perfect tool for architects to browse and find inspiration.
But we know that architects aren't our only readers. Part of what makes Architizer so powerful is that our readers span a spectrum from casual fans to working professionals. Partnering with Kinja means that we will continue to serve all of our readers.
Kinja makes it easy to get involved in the conversation. Simple tools like annotated picture commenting and the ability to create custom content pages makes it an ideal complement to the amazing buildings on Architizer. Now even the most casual reader of Architizer can have a forum for commenting on what they see and creating a dialog with the authors and creators of the work.
The Architizer on Kinja page will also be feeding content to Gawker sites like Gizmodo. That means more eyeballs and more attention to the amazing work that architects upload to Architizer.
Ultimately, that's what Architizer is all about. We empower architecture by breaking it out of its echo chamber to get the broadest audience possible looking and learning about what our profession does. Kinja is just the start!
So get in there and try it out—it's totally addictive!
Stay tuned for more information about the New Architizer launching this summer and sign up to be a beta tester!
Don't forget to check out Architizer.